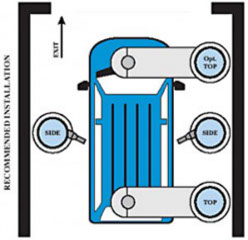 All systems are fully customizable based upon your drying requirements. Below are examples of basic configurations for your wash. Please contact us to properly size your drying system.
10 & 15 HP Motors: 

3 phase, TEFC, 1.3 SF
230-460V, usable on 208v
15 HP: 32 Amps
0 HP: 27 Amps
Molded aluminum impellors
Slotted Flanges for adjustability of air outlet and intake direction
14′ Bay Width
10'5″ Ceiling Height
96″ Standard Clearance
Closed Cell Foam Nozzles available in Blue, Red, Black and many other colors.